Reverse Decorating Party
There will be a potluck lunch on Sunday, January 9th after church. The we will take down the Christmas decorations and put them away until next year.
Please bring a dish to share. We have lots to do, but it shouldn't take long. Thank you in advance for your help!
Please contact Linda Weimer with any questions at 2xlweimer@gmail.com or 724-584-7327
From Heaven Above – December 12, 2021, Worship Service 11:30 AM. 
Children's Christmas Service during worship. Children will tell about Jesus' birth with joyful hearts, songs and readings. 
We will celebrate Jesus' birth with a luncheon after the service. Hope to you see you there! 
Christmas Decorating Party – Nov 28, 2021
---
Christmas Shoe Box's – November 13, 2021
45 Shoe Box's were created for the Children.
---
October 16, 2021
Rally Day – 9-12-21
Rally Day Picnic – 9-12-21
Community Days – 8-14-21
Clean up at the Church 2021 – Before
During
After: Looks GREAT!
POP Holiday Golf – 2020
Concordia Franklin Park Holiday Gifts – 2020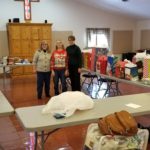 Spaghetti Dinner Fundraiser – 1/30/2016