Christmas Decorating Party.
Sunday, November 28, 2021
Pot Luck after Church
Please bring something light to share. There will be lots to do, 3 Trees will need decorated, garland and wreaths will be hung. Nativity set will be setup.
Any questions, Please call Linda Weimer at 724-584-7327 or email 2xlweimer@gmail,com
Come and join in the Fun! Everyone is welcome.
---
From Heaven Above – December 12, 2021, Worship Service 11:30 AM.
Children's Christmas Service during worship. Children will tell about Jesus' birth with joyful hearts, songs and readings.
We will celebrate Jesus' birth with a luncheon after the service. Hope to you see you there!
---
Small Study Group – Contact Tammy at 724-316-3766 for details
Joining Jesus On His Mission
Where: Prince of Peace Church – 60 Rochester Road, Freedom, Pa.
Beginning at 6:30 pm.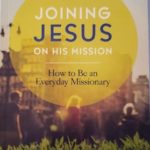 Joining Jesus on His mission will alter the way you see your life as a follower of Jesus and take you beyond living your life for Jesus to living life with Jesus. Simple, powerful and applicable insights show you how to be on a mission and recognize where Jesus is already at work in your neighborhood, workplaces and schools. You will feel both relief and hope. You may even hear yourself say, "I can do this!" as you start responding to the everyday opportunities in your path.
September 10, 2021 – Session 1 : Jesus is on a Mission (Chapter 1-2)
October 8, 2021– Session 2: Mission Mindset Changes (Chapter 2-6)
November 12, 2021 – Session 3: Seeking What's Already Happening (Chapter 7-10)
December 10, 2021 – Session 4: The 5 Mission Practices (Chapter 12-16)
January 14, 2022 – Session 5: A Mission Trip To Our Own Neighborhood (Chapter 17-18)
February 11, 2022 – Session 6: Missional Community (Chapter 19)
March 11, 2022 – First Thing First
---
Kidz Club – December 4, 2021 – 5:30 pm – 7:00 pm.
---
POP Elegant Tea – Saturday – May 14, 2022
Check back for more details
---
Sunday School – Every Sunday – 10:15AM
There are classes for all ages from Preschool/Kindergarten to those who have been out of school for decades. The Preschool/Kindergarten class is open to potty trained 3 year olds and all children of preschool and kindergarten age.
For those of you who were confirmed recently, there are still classes available to you. Please don't just wander away from learning more about The Word of our Lord. No matter how old you are YOU CAN NEVER LEARN ENOUGH OR TOO MUCH.
Please pass this information along to any Lutheran friends you might have who are seeking Christian Education for their children or themselves.
---
Check back soon for more Upcoming Events.