Operation Christmas Child Update
Thank you for sharing out of the abundance that God has given you to support the shoebox ministry.  As a result of your generosity, children in Tanzania will be learning more about Jesus as they are the recipients of the 100 shoeboxes that we packed this year.  In case you're curious, here's some information about our shoebox destination:
Tanzania is an East African country situated just south of the Equator. The country was formed as a sovereign state in 1964 through the union of the theretofore separate states of Tanganyika and Zanzibar. Mainland Tanganyika covers more than 99 percent of the combined territories' total area. Mafia Island is administered from the mainland, while Zanzibar and Pemba islands have a separate government administration. Dodoma, since 1974 the designated official capital of Tanzania, is centrally located on the mainland. Dar es Salaam is the largest city and port in the country.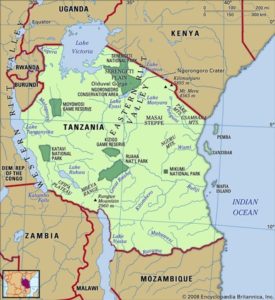 Tanzania is known for its vast wilderness areas. They include the plains of Serengeti National Park, a safari mecca populated by the "big five" game (elephant, lion, leopard, buffalo, rhino), and Kilimanjaro National Park, home to Africa's highest mountain. Offshore lie the tropical islands of Zanzibar, with Arabic influences, and Mafia, with a marine park home to whale sharks and coral reefs.
Roughly one-third of the population is Muslim, the majority of whom are Sunni; the Shiʿi population of Tanzania includes an Ismāʿīlī community under the spiritual leadership of the Aga Khan. An additional one-third of Tanzanians profess Christianity, which in Tanzania includes Roman Catholic, Lutheran, Methodist, and Baptist sects. The remainder of the population is considered to hold traditional beliefs. The division is usually not as clear as official statistics suggest, since many rural Tanzanians adhere to elements of their indigenous religious practice.
2023 Shoebox Drive
Efforts are already underway to pack even more boxes in 2023.  The OCC team has set the goal at 20 boxes per age group and gender.  That means 120 boxes.
We've begun collecting items (more about that later) but would like to ask that you prayerfully consider joining the "10 for $10 Group." If 10 people commit to giving $10 per month for postage, that will cover the $1,200 we need.  And it's simple to give—checks payable to Prince of Peace with OCC Postage in the memo line can be put in the collection plate. Prefer giving cash?  Simply place your cash donation in one of the envelopes found on the OCC table and place it in the offering plate as well.
For January, we'd like to focus our efforts on collecting Barbie Dolls and / or clothing and accessories, washcloths and small cars (such as Matchbox).  Please deposit your items in the bins set up on the OCC table in the hallway.
If you'd like to be part of the team, please join us in the POP fellowship hall on January 9, 2023, at 6:30 p.m.  We welcome new ideas and can always use more help as we sort, unpack and organize items.  If you have any questions, please reach out to one of our members:
Tammy Eckstrom
Debbie Steigerwald
Craig Genser
Emma Genser
---
Big "Thank You" goes out to all the kids and adults that helped pack Operation Christmas Child boxes last night. The kids receiving the boxes are going to be so happy and excited. 100+ boxes were packed, Great Job!
November 5, 2022 @ 5:00 pm.
Kids will help with packing the Operation Christmas Child Shoe Boxes. Come out and join in the fun.
We will pack 100 boxes for the children.
We will also have a tasty dinner. No RSVP needed – Everyone is welcome, so just show up and bring a friend!
Monthly Items for the Christmas boxes.
Operation Christmas Child Update
It's getting close – National Collection week is November 14 – 21. Our goal is to pack 100 boxes this year. So please prayerfully consider supporting this awesome ministry by providing items for shoeboxes and / or money to cover postage.
And MARK your calendars for November 5th at 5:00 p.m. and plan to join in the fun. We'll be having our POP packing party !
Pizza and other refreshments will be provided.
See Tammy Eckstrom or Deb Steigerwald for more details
October Items:
September Items:
September News Letter: Click on the page to read.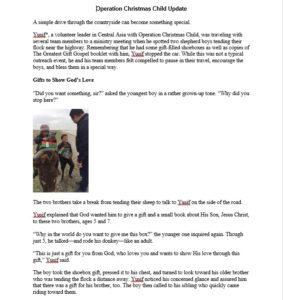 August Items: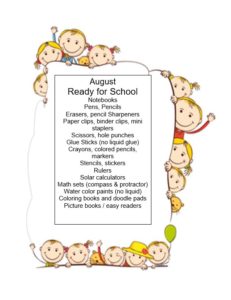 July Items:
We continue to collect items for the shoeboxes. The July list of items are below, BUT if you see something on a prior month list that's a good deal, go ahead and pick it up. The goal for this year is to pack 100 boxes.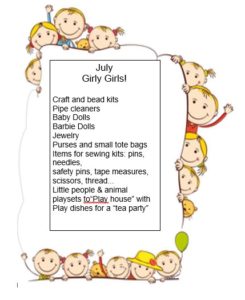 Operation Christmas Child Update
After moving out of his remote village of Duatra in the Suriname jungle, Romario heard the Gospel for the first time and accepted Jesus Christ as his Savior.
Now years later, Romario feels a great burden to share the love of Christ with his home village and other Saramaccan villages, and he is doing so with the help of our Operation Christmas Child ministry.
Duatra will soon become another outreach point for the distribution of shoeboxes, and Romario believes this will open the door for him to share the Gospel with more people who may never get the opportunity to hear it.
June Items:
OPERATION CHRISTMAS CHILD
Here's an update on some of the wonderful things that Samaritan's purse is doing in Ukraine. This is a wonderful ministry and we're blessed to be a part of it!
Samaritan's Purse works with more than 3,200 churches in Ukraine and just two weeks ago, we delivered some 660,000 Operation Christmas Child gift-filled shoeboxes to be given out to children through the churches. That is in process. Then the situation within their country took an unexpected turn, and they are under attack. They were holding services, and a teacher was there teaching the children who could get there about the true source of strength and hope that only comes from the Word of God. There are so many wonderful Christian pastors, congregations, teachers, and church workers there today, ministering to their communities in these times of extreme hardship and danger. They care deeply. They are fearless for the Gospel. Will you please join me in lifting them up in prayer through these very difficult days, for God's protection, wisdom, blessing, and boldness in the midst of trial?
"Who shall separate us from the love of Christ? Shall tribulation, or distress, or persecution, or famine, or nakedness, or danger, or sword? … No, in all these things we are more than conquerors through him who loved us. For I am sure that neither death nor life, nor angels nor rulers, nor things present nor things to come, nor powers, nor height nor depth, nor anything else in all creation, will be able to separate us from the love of God in Christ Jesus our Lord." (Romans 8:35, 37-39)
Our goal for this year is to pack 100 shoeboxes so that children around the world can learn about love of Jesus. Please pray for this ministry and consider donating any of the items on the list below.
Tammy Eckstrom and Deb Steigerwald
May Items: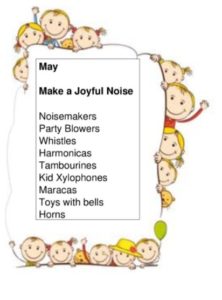 April Items:
March Items: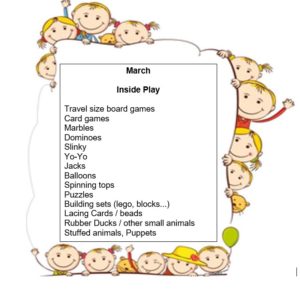 OPERATION CHRISTMAS CHILD UPDATE
Thank you to all of you who have donated items for the shoeboxes. I wanted to share this picture of children receiving their boxes. Here's the post on Facebook:
The details are good, but the greatest gift is Jesus | Today all of our children received their first discipleship class "The Great Adventure" thanks to Samaritan's Purse & Operation Christmas Child for blessing the children, through this many children received Jesus as their Savior.
As promised, we are providing a list of items for purchase in March. But remember that if you find a great deal on something – don't leave it at the store just because it's not on this month's list! Many of these items cost less than $5 so you can buy more than one. If you would like to participate but can't get out to shop for any reason, you can also give $5 to Tammy Eckstrom or Deb Steigerwald and they will shop for you. As you shop, bring items in and give to Tammy or Deb or place on the table in the Fellowship Hall.
February Items: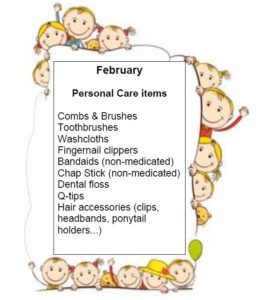 History of Operation Christmas Child
In the summer of 1993, Samaritan's Purse President Franklin Graham received a call from a man in England asking if he'd be willing to fill shoeboxes with gifts for children in war-torn Bosnia. Franklin agreed, but figured Christmas was months away. He forgot about the promise until he received a call back around Thanksgiving asking about the gifts.
Franklin asked his friend, the late Pastor Ross Rhodes of Calvary Church of Charlotte to see if he could help with the need. A Sunday shortly afterward, Pastor Rhodes demonstrated for his congregation how to fill a shoebox with simple gifts and encouraged them to include a letter to the child as well. Within weeks, the church has 11,000 shoeboxes lining their hallways.
Due to their generosity and additional gifts from Canada, Samaritan's Purse sent 28,000 shoebox gifts to children in the Balkans that Christmas. Through these gifts, we communicated to children and their families what the angel said to the shepherds about Jesus' birth: "I bring you good news of great joy that will be for all the people" (Luke 2:10, ESV).
Every year since, Samaritan's Purse has collected shoebox gifts filled with toys, school supplies, and hygiene items for children around the world. Since 1993, more that 188 million children in more than 170 countries and territories have received an Operation Christmas Child shoebox. The project delivers not only the joy of what, for many kids, it is their first gift ever, but also gives them a tangible expression of God's love.
Tens of thousands of volunteers from local churches around the world partner with us to present the Gospel of Jesus Christ at festive outreach events where children are surprised with these shoebox gifts.
Operation Christmas Child at Prince of Peace
Last year, for the first time, members of Prince of Peace came together to fill shoeboxes for Operation Christmas Child. The goal was to fill 24 shoeboxes and get so experience with the program. But God works in mysterious ways and the outpouring of thankfulness from the congregation and preschool families was tremendous. In total, we packed 55 shoeboxes, prayed over the boxes and sent them on their way. Thank you to all those who donated items and/or money for postage, those who packed the boxes and those who offered their prayers that these boxes are a blessing to the children who received them.
We're excited about continuing this project in the future. Please pray that God continues to bless our efforts to share the gospel with children around the world.
For more information, Please visit Samaritan's Purse: Operation Christmas Child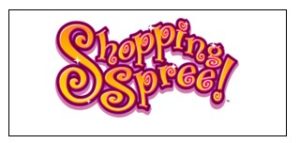 The $5 Shoebox
If we asked you to go shopping in November and buy $55 worth of shoebox items, most of you would think "That's a little much, I don't think I could afford that." But what if we asked you to spend just $5 each month on items, most of you would say "well, that much I could do….. But what should I buy?"

This year we encourage all of you to go on a $5 shopping spree each month for items to pack in this year's shoeboxes. At the beginning of each month, we will hand out a shopping list with suggestions of things you can buy. Each month will have a theme such as school supplies or hygiene, but remember, these are just suggestions. If you find a great deal on something – don't leave it at the store just because it's not on this month's list! Many of these items cost less than $5 so you can buy more than one. If you would like to participate but can't get out to shop for any reason, you can also give $5 to Tammy Eckstrom or Deb Steigerwald and they will shop for you. As you shop, bring items in and give to Tammy or Deb or place on the table in the Fellowship Hall.